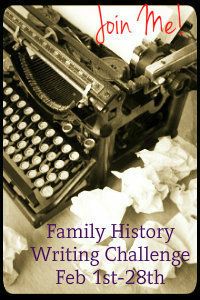 You may have noticed in my
February Photo Collage
post earlier today I did not attempt to write my 500 words for the
Family History Writing Challenge
.
I found this approach was just not working for me as all my Fullerton information is still saved on my computer hard drive in a rather disorganised manner. I was spending too much time looking for my data and source information, and it was time that I simply didn't have to spend.
Therefore, from today I will continue both challenges but, I will attempt them separately. I will use the
February Photo Collage
posts on this blog to look at some of the different photographs I have and will post basic biographical data about the people in the photograph.
I take one source document.
I extract thedata from that source document into my word processor in simple form (without worrying too much about how boring and factual it sounds in its first draft)
I create a source citation and an entry in my bibliography for that source document.
In a separate 'To do' word document (or maybe in Evernote?), I write out all the questions I have about the source document and/or the background history.
I will make a note that I have extracted the information from that source document and move it to an appropriate folder on my computer hard drive.
I will then move on to the next source document.
As
Carol Baxter
mentions in her
book
(page 67), this means I have started to write my family history while also processing and filing my research (my ongoing
goal
). That sounds like a great way for someone like me to do things!
I have been going over some of my University assignments, as well as plans and timelines I created a couple of years ago. There is a lot to work with, I just need to get started. I am still looking at
Personal Historian 2
. In addition, after reading a recent blog post by Denise Barrett Olsen at the
Moultrie Creek Gazette
blog about
Scrivener
, I have downloaded a trial version of that software to have a play with. Both Personal Historian 2 and Scrivener are now added to my 'software to learn' list, which is consistently growing. Perhaps I should just stick to the software I already know like Word or notetaking software like Evernote or OneNote?
© 2013.
Australian Genealogy Journeys
by
Aillin O'Brien
is licensed under a
Creative Commons Attribution-NonCommercial-NoDerivs 3.0 Australia License
.Permissions beyond the scope of this license may be available at
http://ausgenjourneys.blogspot.com.au/p/copyright-terms.html
.